At Rimu Marketing we work with a number of inspirational small businesses across a diverse range of sectors on a variety of projects. We are delighted that Andrew from Watto'sWord has agreed to star in our most recent case study, to discover more please read on.
About the Business:
Andrew the voice behind Watto's Words has a really inspirational journey to share, he has undergone a double lung transplant to overcome his life long battle with Cystic Fibrosis. He really is an inspiration to us all and through his Watto'sWords blog, wishes to share his passion for life; and musings about his love of sport, travel and entertainment. Watto'sWords has been around for about 6 years and Andrew approached Rimu Marketing to help take the blog to the next level in, preparation for potentially sourcing paid for writing assignments.
The blog, Watto'sWords is aimed at the discerning gentleman who is within the 40-55yr age bracket, they love sport, travel and music; work hard but have time on their hands at the weekends to indulge in their favourite hobbies, including following rugby, football, cricket, sports and travel.
Summary:
I started to work with Andrew in December 2017 and we have taken the blog from its initial beginnings, transforming it to a proposition which we can now take out to market in support of Andrew's ambition to source paid for writing assignments.
Our Challenges:
When we started to work together Andrew needed to build the blog and establish the marketing channels, to enable him to effectively connect with his ideal client. Our start point was to build the marketing strategy and start to establish our harvest media channels, which included building the website; engaging and establishing relevant social media channels. We agreed that email marketing was also required but this will come later.
Marketing Strategy: I worked with Andrew to write the marketing strategy, content and marketing plan. During this process we defined the business objectives, describe the target audience and understand the general blog environment. This process is great for helping the business owner and key stakeholders understand what they are doing, why they are doing it and more importantly what success looks like.
Establishing a brand: In line with Andrew's ambitions to update the blog we worked with one of Rimu Marketing's associate designers – Creative Co to build Andrew's logo and brand guidelines. Working with the team we built the brand you see today with the ideal client in mind.
Website Build: We worked to re-fresh and update the website in association with our website partner Avidmode, not only visually but behind the scenes we conducted SEO research to work more effectively to generate business and leads. An effective website is key to business success in today's digital market place.
Blog: As the core proposition, Andrew has continued to write his blog, on average 2-3 times per week. We have worked together to update the look and feel of the blog and ensure it creates the professional appeal Andrew is looking for. Writing a blog is a key part of today's digital world, not only does it support the website SEO but enables the business to convey more information to the target audience about the business.
In line with the new branding and in support of the above Andrew has also started to build his following in Twitter, which we identified as the right network to connect with his ideal clients. We worked together to agree an overarching content plan and link this with the blog activity.
Creative example of the new Watto'sWords A5 leaflet, with the new branding: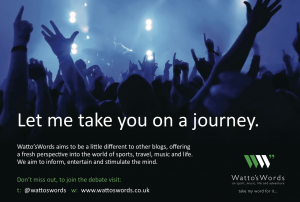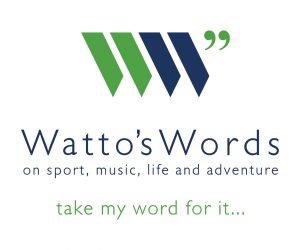 The Results:
Watto'sWords has come a long way since we started to work together in Q4 of 2017, in line with our objectives we have:
Designed and established a brand and logo which resonates with the ideal client.
Built a credible blog website in line with the new branding with continuous client engagement (average 2-3 times per week).
Andrew has had articles published on the principle Wasps Rugby News, which is the principle Wasps supporters blog and also in AKUTRS, the QPR fanzine.
Twitter followers have now increased by 50% over the last year and engagement has increased.
What happens next:
As a result of the good start we have made, we now need to continue to engage with our ideal client; build our audience by sharing great relevant content; establish our email marketing channel and start to approach editors for paid for writing assignments. It is also important to maintain a work/ life balance for Andrew, whilst still recovering from his operation he also works part time for the Big Yellow Self Storage Company.
I am pleased to be continuing to work with Watto's Words on their exciting journey. Watch this space as great things will be happening!
Some words from Andrew:
" Sophie has been an ideal person to work with to bring me up to date with the modern media and marketing world, and to lead me through this slightly nerve-racking process, which does not come naturally to me. She has come up with some excellent ideas and through her wide source of contacts, has brought both creative and website designers to the table so that I now have a website and blog that I am really proud of. Through Sophie's efforts I can now, with her help and guidance, use this as a springboard to further develop my blog brand and my passion for writing. Sophie is experienced, is well versed in all aspects of marketing, is very understanding, thoughtful and has been excellent to work with."
Andrew Watson, Chief Blogger, Watto's Words
If you wish to discover more about how Rimu Marketing can help promote your small business, please do get in touch.