We are delighted to welcome our guest blogger and professional photographer, Jodie Humphries to explain why images are so important in your business blog and share her top tips.  Here is what Jodie had to say:
You might have heard the saying 'content is King', but as professional photographer and blogger, I would go one step further and say that the 'image is King.' In our busy, multi media and social media saturated worlds, an image can help your content stand out online and can help your audience retain the information better too.
Knowing that you need to include images in your marketing, social media, blogging and power point presentations is one thing, but there are often several other questions that arise. Where can you find images? What rights do you have to use them? How many should you use? This post looks at a few of the most common questions surrounding images in business blog posts and tries to dispel some of the myths and confusion.
Do you have to have images in a blog for it to be successful?
If you have a truly outstanding piece of unique content that has never been heard before, that is published at the optimum moment in time and that resonates with your audience, then it's possible that your blog post could succeed without an image. But this is pretty rare and a tough act to follow week after week if you're following a regular blogging schedule.
Consider a few of these facts before you hit publish on a blog post with just text alone:
People are time poor and often skim read their social media feeds. Having an image assigned to your blog can help the post stand out amongst all of the other memes, gifs and videos in their feed.
Many of us read blogs and articles on smartphones and devices and scroll quickly through content. An image helps retain interest and keep them 'on the page'.
Using an image gives you additional options for SEO: you can add Alt Text, and change the file name to something relevant so your subject can help Google identify your content.
According to the famous advertiser David Ogilvy, captions under images are read on average 300% more than the body copy itself. Using images in your blog posts gives you extra opportunities for your key messages to be read.
An image makes it much more likely that people will pin your post onto a Pinterest board.
If you use images of a certain style, or create your own photographs, it can be a strong part of your digital branding and visual identity. This allows your audience to identify your content easily across social media and the web.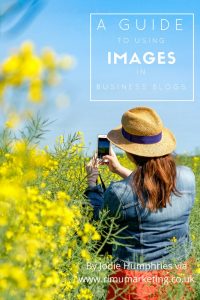 Where can you find images to use?
These days there are lots of websites offering free or low cost images to use in your blog posts and digital content. These sites have images at a variety of dimensions and resolutions that photographers have given permission to be downloaded. Always go through an official site as opposed to copying images from websites or from a Google image search.
You could try any of the following sites: Pixabay, Unsplash, Pexels or Canva.
Remember that lots of other small businesses are using these resources so take a little time to find the right image as opposed to just taking the first image that comes up that matches your theme. Keep a note of what usage rights are displayed with the image, ideally with a screenshot. This will help you avoid any claims of 'misuse' further down the line should the terms and conditions for usage change.
You can also use your own images to illustrate your point which is great way of ensuring that you have unique and relevant imagery. Smartphones have come a long way in terms of image quality and I find that with a bit of editing know-how my clients can turn their everyday photos into usable content for their social media and website.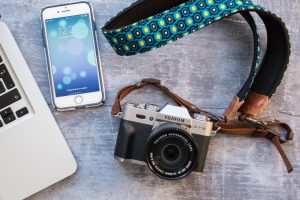 How many images should you use? 
This depends on the content. If your business has a visual element to it (eg cake baking, craft or cookery) then this is really your chance to shine and showcase what you do. Each image that you add will need an alt tag (code that you add in when you upload your image to tell Google what the image is about) and you should also write a caption on the image that your readers can see. Posting an endless list of images without telling people what they are doesn't add value to your post.
If your blog is much more service or advisory in nature (like this one!) then I would recommend having one great image as your lead (featured image). This is what will get shared with the post when you share the link on social media. If you can find one or two related images, great, but if not then you can break up your content with short paragraphs and headers above each paragraph.
What size do your images need to be?
There is a lot of confusing information on the web about image size and quality. Web pages are very different to printing images and you don't need a huge high resolution file to make your images look good online, images at 72dpi are fine. Check with your website host or look at the settings for your theme. It's worth taking a bit of time to get this right as large images can slow down your page load speed which is something that Google keeps an eye on.
There are free sites online that can help with this eg: www.imagesmaller.com and www.imageoptimizer.net.
Where do you put your images in your blog?
Most content management systems have an option to set a 'featured image' for your blog. Uploading your image here will ensure that your image and headline are visible when people tap to read your post. If you have a series of photos then it's wise to space them out throughout the blog to help break up large bodies of text.
I hope this post has helped answer some of your questions about using images in business blog posts. Although it may add a little extra time to your workflow to find and optimize images for your blog, the benefits this has to your content are fantastic.
Thank you to Jodie for sharing her tips on using images within a business blog.  Jodie is a freelance photographer and content creator who offers training and support for small businesses with their visual content marketing strategies.