At Rimu Marketing we enjoy working with a broad range of small businesses to help them establish a good solid framework from which to drive their business forward. We work across a diverse range of sectors including HR, Leadership Development and Executive Coaching. With this in mind we wanted to share a recent client case study with Jackie from Illuminate You, they are an amazing brand who has undergone a big change with some very exciting plans on the horizon. We have worked with Jackie for about 9-months and in that time we have achieved a huge amount, initially rebranding and then building a great website from which the business is building on their success.
About the Business:
Illuminate You is a transformational and executive coaching business, located in Maidenhead, Berkshire. They are dedicated to supporting senior managers, leaders and teams to be the best that they can be through offering a range of workshops, 1:1 coaching sessions and much more. With a strong corporate and associate career Jackie has worked alongside a broad range of industries including manufacturing, telecommunications, retail and the NHS.
Summary:
I started to work with Jackie in January 2019 and we have achieved a lot over the last few months. Jackie already had a very successful and established business and it was a pleasure to help her build on her successes.
Our Challenges:
When we started to work together Jackie had an old website and whilst a large proportion of her work was through Associate partnerships she was keen to re-establish her own identity and branding. Ensuring that Jackie had a strong brand that accurately reflected where she now was in her business journey and that she felt proud to talk about was really important.
Marketing Strategy: We started at the beginning, working together to write the marketing strategy, content and marketing plan, so we were clear on the direction of the business and what Jackie wanted to achieve. As part of this process we defined the business objectives, target audience and content planning amongst other things. This process is a big piece of work which requires investment and great for helping the business owner and key stakeholders understand what they are doing, why they are doing it and more importantly what success looks like.
Rebranding.  Once we knew where Jackie wanted to get to, we were then able to build an identity which would work across her website and marketing activity, which reflected both her and where she was in her business journey.  Working with one of the Rimu Marketing Associates – Creative Co to help us develop the new branding the final outcome is sophisticated, professional, reassuring and calming a great reflection of how the business can support their clients.
Website Build: We work with another one of our Rimu Marketing Associates – Avidmode who are a website design agency based in Maidenhead.  Their brief was to refresh the website to reflect where Jackie was in her business journey.  Our involvement was the project management, copy writing and sourcing of images.  An effective website is an essential part of successful marketing and key to business growth in today's digital market place.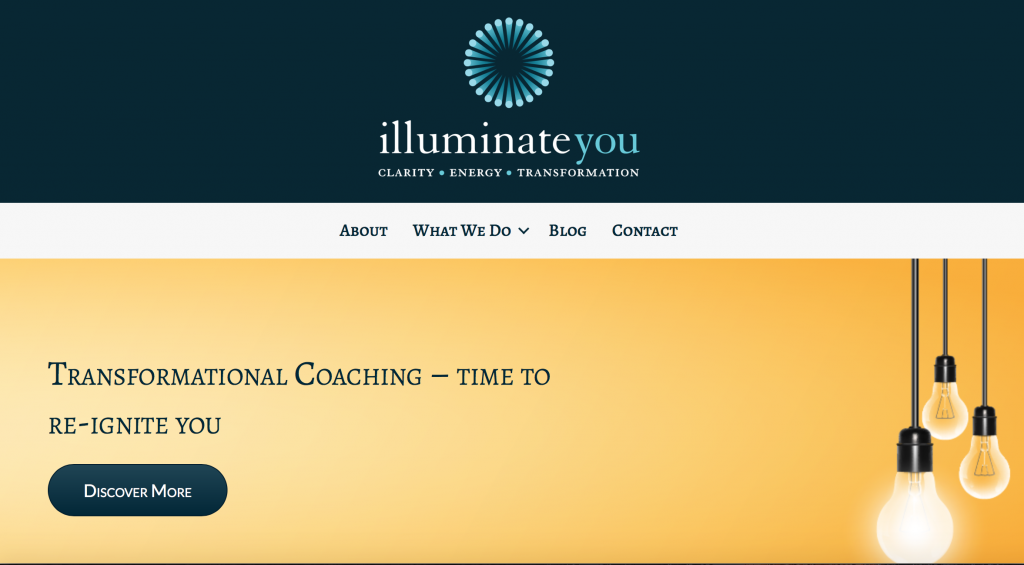 Blog, Email Marketing and Social Media: we are now in the final stages of content planning to ensure that now we have a really solid platform from which Jackie can promote and drive her business forward we can take it to market. Our focus will certainly be to work in Facebook and Linked In as they are the two key networks where our audiences can be located reflecting the slightly different parts to the business. Lots of great things are starting to happen, to keep in touch with Illuminate You please CLICK HERE.
What Happens Next?
We have laid down some great marketing foundations as we move into the final quarter of 2019 and into 2020. Congratulations to Jackie in her achievements so far. There are some more exciting projects on the horizon – watch this space!
Client Quote:
"Sophie has been instrumental in ensuring my marketing efforts are strategic and targeted. She continues to provide me with a wide range of marketing services from creation of the website, the new brand logo and is now working on my social media plan. Think of her as your marketing director, she is direct and supportive at the same time, she is not afraid to be bold with her ideas and approach, and in doing so in such a professional manner really steers your marketing in an outstanding direction. I really value her expertise, energy, professionalism, availability, honesty and authenticity. Highly recommend."
Jackie Haywood, Executive Coach and Facilitator, Illuminate You