As Valentine's Day approaches many product based businesses will be thinking about their marketing campaigns. Whilst this year is undoubtably different, we wanted to share with our our six valentine's day marketing ideas. Before you make a start, it is wise to consider what you are trying to achieve with your campaign? Define what success looks like, especially if you are investing in wider media such as paid for editorial or social media ads. Once you know what you are trying to achieve, then it is important to consider your target audience, they maybe different to your usual audience. For example, if you are jewellery company, your usual target audience maybe a female demographic, but on this occasion it may be that their male other halve are more likely to purchase from you.
In our latest blog we wanted to share some our Valentine's Day marketing ideas and share what of the big brands are are doing, to give you some inspiration. It is always a good idea to start planning early, which hopefully you have already done as part of your annual marketing planning process. It is not too late though and hopefully the following gives you some ideas to apply for your small business:
1. Run a Competition
What better way to create a buzz or engagement on social media than to run a competition? Supported by promoting this across all of your marketing channels, this will undoubtably encourage likes, shares and comments. Below is a great example from Courtyard by Marriott Fargo who are trying to encourage engagement and debate. It is interesting to see that they are trying to connect with not only their direct audience, but their partners as well.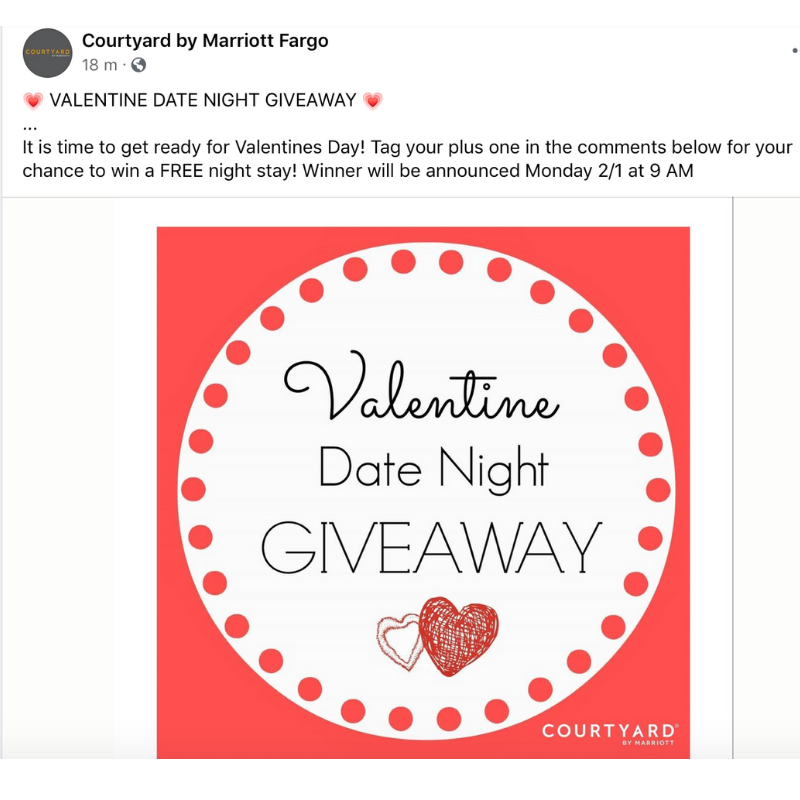 2. Get creative on social media
Social media is a great way to connect quickly with your audience and below is a really eye catching visual from The Soho Bee. This post is a great example of how to achieve cut through in a busy and cluttered environment. I can't help thinking there is a lost opportunity though, to include an offer or value add to encourage potential customers to take action with urgency.
3. Create an Offer
By creating a Valentine's Day offer, it is a great way to encourage your ideal client to take action, providing some urgency around making a purchase. Below is a slightly practical visual from the Boots website. They are directing you to purchase certain categories and gifts from their range to treat your loved on Valentine's Day.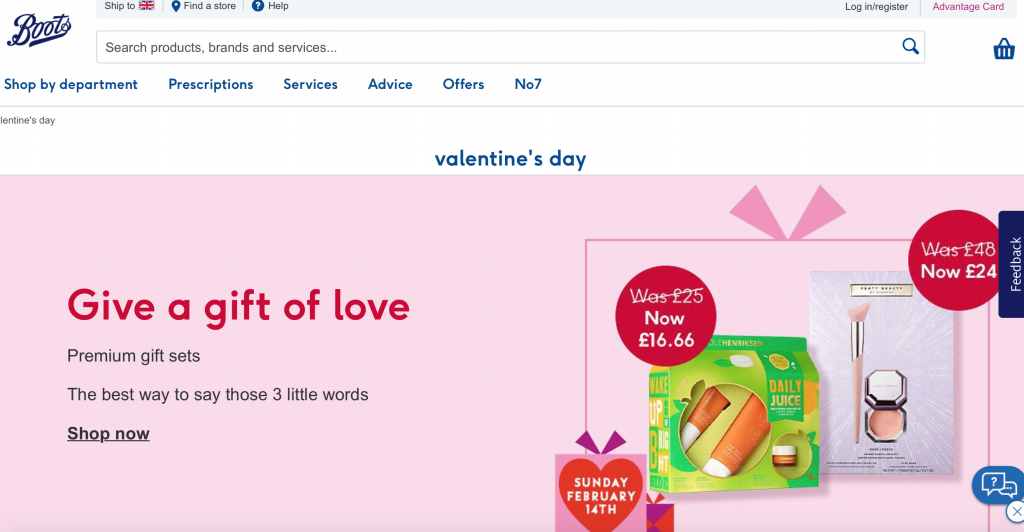 4. Make the most of your products
Dunkin Donuts, whilst focused on the US market is a really nicely executed example of a Valentine's Day campaign, with a slightly cheeky twist. They are encouraging you to vote for your favourite drink. Coupled with some great media engagement it will really help to drive awareness of the campaign and ultimately footfall into store to make a purchase.
5. Create a Gift Guide
As a product based small business owner, to be listed or featured within Valentine's Day gift guide is a great way to promote your business and expand your reach. Below is a great example from Good House Keeping. Whilst it may not always be possible to be included in some high profile magazines, there are plenty of opportunities to be featured in more localised equivalents.
6. Activate you email list
We have talked a lot about how you could use social media to help drive engagement and awareness for your Valentine's Day promotion, email marketing can be equally as impactful. Email marketing is a great way to take your campaign directly to the hands of your ideal client, inspiring them to treat their loved one. A great example of how Cote are responding to the current situation and sharing their Valentine's Day gift boxes.
If you have not yet had a chance to plan your Valentine's Day marketing activity be quick. There are many days to celebrate across the year though if this day is not right for you, the next celebration is probably Mother's Day. if you need some help in planning your 2021 marketing campaigns, making the most of key occasions, please do get in touch.
Good luck!
Sources: