On Monday 28 January I was delighted to have been invited by the CIM, to join a marketing industry debate, along with other fellow chartered marketers, at the House of Commons.  The debate topic was: "Is the marketing sector is heading towards a skills crisis?".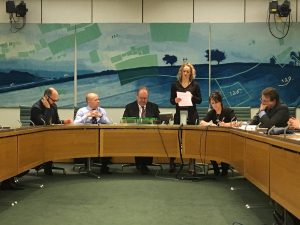 We kicked off the debate with Richard Kenyon "Director of Marketing and Communications for Everton FC" stating his case and sharing some worrying statistics.  In some recent research just 3% of university students say marketing offers good career opportunities.   I could not help to wonder with the research wether the wrong terminology was being used.  I am sure if you had said do you wish to be a "You Tube Star" or "work in social media" when you look for your first role, you might have got a different response.  Richard was supported by Russell Parsons the "Editor of Marketing Week", backing up the debate and supporting the argument that there was indeed a shortage.
After the intro, welcome the defence.  Gemma Butler "Marketing Director from the CIM" then provided a counter argument that it was not really skills shortage that the industry was facing but more of an identity crisis.  The arguments for the debate were very convincing and fairly conclusive, but actually the idea that the marketing industry with such a broad range and spectrum of skills is loosing its way also made sense.  There is such a broad range of skills now required to work within the marketing industry.  To be a marketer in today's world, not only do you have to be creative, know your target audience, know how to buy media, track results, interpret data but also engage with your audience ongoing,  to name a few examples. With the digital world exploding and changing at a fast pace,  it is no wonder that the next generation are confused as to what marketing is and if they wish to work in the marketing industry.
If I think back to when I was studying, more years ago than I care to remember, my job simply did not exist.  The approach to marketing was very different, on and offline were considered separate disciplines, today, they very much need to be integrated to gain the full impact and momentum eg: the recent Christmas 19 John Lewis and Waitrose ads.
As a small business marketing consultant, there is definitely a role for  regulatory bodies such as the CIM, Institute of Direct and Digital Marketing, The Marketing Society, etc to play, to ensure marketers are trained and qualified.  There are an increasing number of people who believe that they are qualified to act as marketers, with no real way of substantiating the claim and whilst experience counts for a lot, so does formal qualifications.
It was an interesting debate with some well known universities and brands presenting their views.  In conclusion, the house voted against the motion – that the marketing industry is facing a skills shortage, but there was support that the marketing industry was facing an identity crisis.  Overall, a great experience and exciting to be able to contribute and shape the future of the marketing industry in such an amazing venue.