This week has been an exciting one. On Wednesday I launched my first every radio show on River Radio, a Marlow based station which covers the Thames Valley. For those who follow me, you will know that I love radio and consider it an important part of the marketing mix for businesses of any size. In the first show we started to debate some key current topics, one of which was to consider how the new hybrid way of working will effect the marketing world. If you wish to listen on catch up you can do so by clicking here.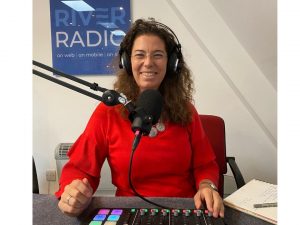 What do we mean by hybrid working?
There is a lot of discussion around what we mean by hybrid working. Simply, it is a reflection of the challenges the working world has experienced over the last 18-months and captures a more flexible way of working. It could be that you choose to work earlier hours or vary the location from where you work. This got me thinking, as a result of our change in consumer habits, it will also mean that we have to think differently and change the way we connect with our target audience.
What are the effects for marketing industry?
As a marketer when we plan a campaign we are always trying to find a way to connect with our ideal client. Whether that is to find the right media, messaging or proposition that will resonate with them. As people change the way they work, it will impact our ability to do this in a number of ways:
Timing.

Considering the timing of activity for media such as social media or email is a fine art, as people change their habits, there will be less obvious key times to try to engage with the audiences. For example, currently it is cited that 8am, 1pm and 6pm are broadly good times to deploy Linked In posts, reflecting peoples commuting habits. As we move to a hybrid working model this will become less clear cut, meaning we will have to be more creative in the way we achieve this.

Media Value

. As people travel less to work the footfall or visibility of certain media will be impacted, thus loosing some of their appeal. Outdoor media such as bus sides, poster sites, etc will not have so much passing traffic and therefore have less perceived value.

Brand Values.

People have had time to reflect during lock down to consider the kind of brand values which are important to them and that they wish to see reflected in their place of work. Environmental and wellbeing policies will start to play more of an important role. Many businesses will start to see that talent is actively walking away from roles or opportunities, to businesses who are are in greater alignment with their own values. As a marketer we need to clearly define our brand values, not just through words by also by actions as well.
Connectivity. We have seen a transition in the way we engage with each other with a total shift to online taking place, as we move back to being able to engage in person more, there will also need to be a balance achieved here. You certainly cannot replace the in person connection within teams, but hopefully there will be budget and environmental gains in not having to travel to every meeting in person.
In conclusion, times are definitely changing and perhaps at a far greater speed that initially anticipated, more will become visible as we move into 2022. As marketers we need to continue to adapt our approach to reflect these changes in customer and buyer behaviour.
If you would like some help working out how to adjust your marketing activity to accommodate a more hybrid way of working, please get in touch to arrange your no obligation discovery call.