In this blog, we will be looking at an email marketing case study focusing on a campaign from PayPal, looking at why it creates engagement with their audience and how you, as a small business owner, can harness these tips and tricks for your own benefit.
While there are many brands that stand out for their innovation in this area, we have chosen to examine a campaign by PayPal. In 2014, they expanded their mobile payments range, thus enabling users to quickly split bills and pay for meals via their mobiles. A great idea!  The resulting email campaign launching this new facility stood out for a number of reasons. PayPal knew that their new development offered a genuine benefit to their customers, one that could potentially result in a big increase in service usage.  Here's what they did.
Creative:
Headline "Good food, good friends, good way to split the bill." The headline pulls out the key benefit immediately, making people want to read on.
Tone of Voice: Clever and personable – integrates brand with the recipient's social group, getting onto their level.
Benefits: Easier payment in restaurants, something their customers need, want and will appreciate.
Body Copy: is image-heavy for better engagement; relies on minimal text and 1,2,3 steps to get the message across – keeping the message simple.
Call to Action: This is really prominent making it obvious that if recipient wants to read more they can click 'Learn about sending and receiving money'.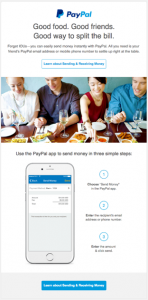 So, what are the key learnings a small business can gain from this campaign? While you may not have the budget of PayPal, you can pay heed to the following takeaways:
The sale starts at the headline – opt for email headlines that accurately highlight any offer or incentive you may be offering. Oh, and if your target audience would appreciate clever wit or wordplay – go for it. Some of the most successful email marketing campaigns rely on a little tongue-in-cheek humour to boost their success rates.
Make the benefit clear. You really want your reader to open your email, and keep reading through – because it's clear that you're offering something that can benefit them. Even if this is not a new service offering as is the case with PayPal, perhaps you are offering them a monetary deal, industry insights or even entertainment. Use your subject line, headline and opening lines to convey the benefit of your communication and entice people to read on in a more effective way than heavy copy would. What's more, a great offer or incentive can make your recipients happier to receive today's email, and more likely to open your tomorrow's one off the strength of it.
A clear call to action.  What is the reason you're sending this email? Make it easy and quick for recipients to do what you want to do by including a button, phone number or clear link to the relevant part of your website. If you have a lot to say about your service or product, like PayPal, then provide a link to somewhere readers can learn more. Don't overload your email!
Data segmentation.  Whilst we don't know about their segmentation approach, think hard about the key message of your email, and which of your customers are most likely to engage with the message. If you haven't already, segment your data into relevant groups depending on how far individuals are down the sales funnel. In basic terms – someone who has recently purchased product A at X price may not be too happy to receive details of your latest cut-price reductions.
If you would like to learn more about how to use email marketing effectively to drive your business why not join out email marketing workshop on 27 September.
Sources
https://blog.hubspot.com/blog/tabid/6307/bid/32854/10-simply-awesome-examples-of-email-marketing.aspx#sm.0000f1b16c12ymdgqtw7arkbcbgtw  (number one)
https://www.marketingweek.com/2014/03/21/paypal-expands-mobile-payments-range/
https://buildfire.com/email-marketing-examples/   (number six)