In today's digital world, it is often all about content. Whenever you are starting to plan a new marketing campaign, it is important to consider your audience – what are they thinking? What is important to them? And what challenges are they facing at the moment? Awareness days and key dates in the diary can help us to focus our attention.
At this time of year, we have quite a few key dates coming up including Mother's Day and Easter, that can be key for some sectors. This month we are focusing on email marketing, a route to market which is a firm favourite of ours. This channel is cited to drive 40:1 ROI so as a marketing tool is key to include in the mix. In our blog this month we wanted to focus on sharing some Easter email marketing campaign best practice and ideas. So, where to start?
Campaign Planning
As with any marketing campaign we need to start at the beginning. Hopefully, you have already built your marketing strategy for the year, so you know when the key points are that you wish to promote your business and the time scales that you wish to work too. If for example, you work for an online gift shop, you may see your lead times are about a month out for any key dates and a last minute rush for your less organised customers. Or as a chocolatier, that people order for Easter a month out but all goods need to be made and delivered a week before. What other key things do we need to consider when planning our Easter email marketing campaign?
Objectives: Start at the beginning, what are you trying to achieve with the campaign? What kind of sales or revenue targets are you aiming for? Don't forget to keep your objectives SMART (Specific, Measured, Achievable, Relevant and Timed).
Target audience. Who are you talking to? Are you aiming your messaging at families, working couples or those who are retired? This will help you to craft your visuals, messaging and media selection. To read more around this topic click here.
Proposition. What is it that you are offering your clients? What challenge is it that are you solving? Will you offer a discount or value add offer to support and encourage your audience to take action?
Creative. All creative should be working consistently with your brand guidelines, how will you theme your messaging – lots of Easter eggs and bunnies seem to be the order of the day around this time of year. Don't forget that Easter egg hunts and competitions can also be a great way to engage and connect with your audiences.
Route to market. What media will you choose to connect with your ideal client? Depending upon your audience this will vary. Email marketing will be just one route to market, segmenting your base to able to ensure you get the right message to the right audience will be a really useful step. Does your audience also hang out in Facebook or Instagram? You might also be investing in Google ad words and need to ensure that you update your key word focus to reflect the campaign focus eg: Easter offers. Radio, press and magazine activity can also help to drive brand awareness.
Track results. It is critical to ensure that you put in place measures and metrics to enable you to track the performance of any marketing campaign, to be able to keep an eye on how the media and creative is performing and increase the focus on the activity which is working. There are a number of ways we can do this, read our more in depth article about metrics here.
Test and Learn. A lot of marketing, especially in the beginning is about testing and learning what works for your individual business. Whilst initially, there are some assumptions to be made to help you get there quickly, it is key to work out what works for your business.
Good luck!
Easter Email Marketing Best Practice
Easter is a great time of year and creatively you can have lots of fun with the visuals that you create. There are some basic things you want to consider in your Easter email marketing campaign, such as:
Be single minded in your messaging – don't say too much.
Be visual – the old adage of "Pictures speak a thousand words" has never been truer.
Don't forget to send yourself a test to read the copy, check the links and ensure it all makes sense.
Don't draft war and peace. Email should be short, sharp and to the point – drive your audience through to your website to discover more.
Be consistent your emails should compliment and support your other marketing activity.
Don't forget your subject lines make sure they are "Eggcellent", draw attention and make you smile.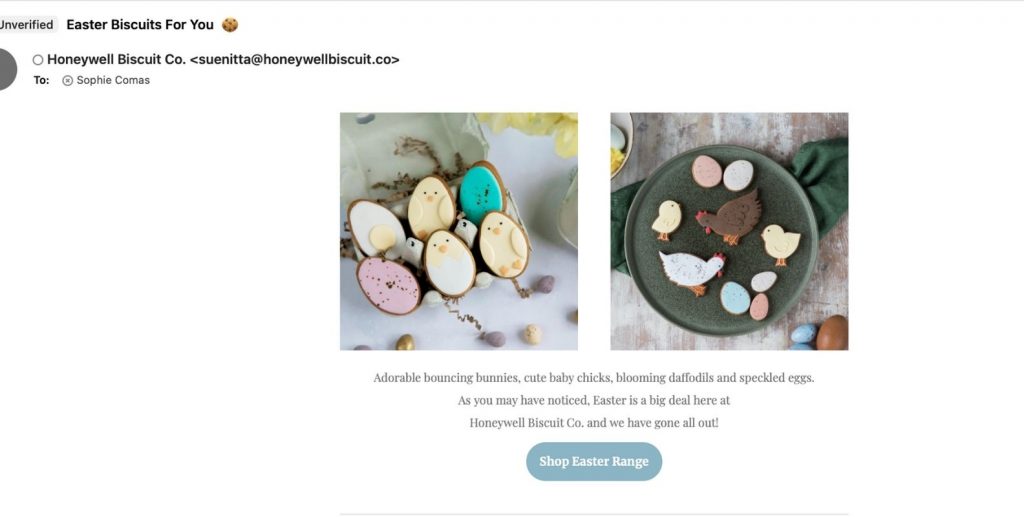 I have also recently seen some very sensitive examples of brands being mindful that people might not want to receive messages around a particular time of year. Go Ape recently sent one out for Mother's Day and below is another example of this from the Honeywell Biscuit Company, where they are offering you the opportunity to opt out of Father's Day messages.
In Conclusion
Done well, email marketing can be a really powerful tool to help driving new business. Don't forget to get planning early for your Easter email marketing Campaigns. If you would like some help getting started, please do get in touch.