A frequent conversation I have with my clients is around deciding "What content should I share?" or "What content would my audience find interesting?". There are many choices and without a doubt, "Content is king" in today's digital marketing world. Getting the right content balance that explains your business proposition, resonates with your audience, and ultimately helps you to drive your business forward is essential. In our latest blog we wanted to share our content ideas for small businesses:
Things to think about before you start to plan your content:
As with all marketing activity, it is important to know what you are aiming for, before you embark on any piece of activity. We talk a lot about defining your marketing strategy so that you have a clear vision of how to move your business forward. In our marketing strategy for business – the definitive guide we share some thoughts to help get you started. In quick summary, make sure you consider:
What are you trying to do? What does success look like from your marketing activity and how does it support you achieving your overall marketing objectives?
Who are you talking to? Having a clear definition of your target audience underpins any marketing activity, once you start to visualise them, the content piece will become much easier to decide.
What has worked in the past? Understand what content has your audience engaged with you on previously? What posts have you shared in social media or via email that people have reacted to?
Competitors. Take a look at what your competitors are doing and see if there is any learning or insight you can gain.
What is your call to action? With any content that you share, have a think about what success looks like for you. Do you want your audience to read a blog, get in touch to arrange a 1:1 or purchase a product or service?
What does success look like? With all good marketing you need to think about what metrics you are going to use to track performance, it could be likes, comments, shares, or revenue generated.
So what content ideas for small businesses could you use?
Here are some ideas to help get you started: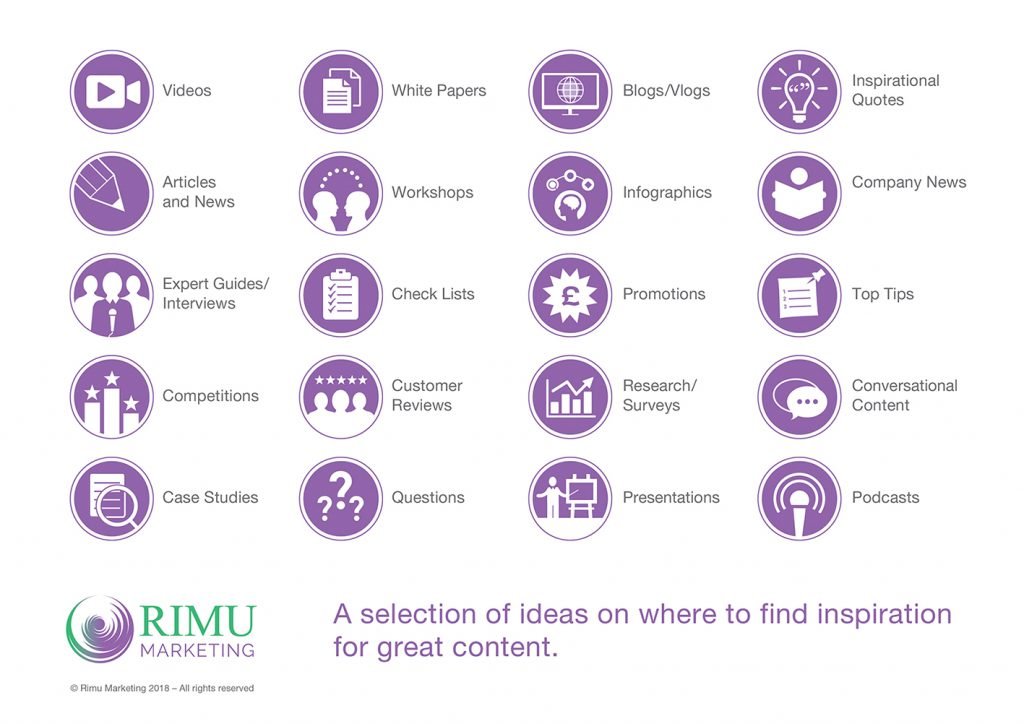 What media could you use to support content deployment?
There are many different tools you can use to connect with your target audience. Without question, video as a media continues to grow at a fast pace, words alone are no long enough. As a small business owner working within the social media and email marketing space is a gift and engagement is definitely the key objective; visual content is more likely to help you achieve a response.
1.Video:
The use of video continues to grow and 85% of marketers now state that they use video as part of the marketing mix. 88% of marketers claim that the use of the media shows a 5% increase in conversion.  In summary, it is anticipated that the use of video is set to continue to increase whether that is via Facebook Lives, Instagram Lives or videos in isolation.
2. Infographics:
Infographics are wide and varied, with tools such as Canva and Word Swag to name a few, means that it is easy and economical to now build and develop eye catching infographics which are on brand.
3. Images
The old adage of images speak a thousand words is so true.  There are many free image websites out there including Pixabay and UnSplash meaning that good imagery is easy to come by – don't forget to check the licence to use any imagery that you find.  If you want something a little more exclusive then there are lots of libraries where you can pay for the imagery, Shutterstock is a good choice here.
4. Brand Story Telling
To help people resonate with you, sharing your brand story can make a big difference – sharing the why behind your business and what you are doing can make all the difference to your customers engaging with you vs the competition. Messages and policies around: community, work/ life balance family and an environmental ethos are all good.
As we move forward there is no question that good quality content ideas for small businesses will continue to form the basis of all marketing.  With different learning styles in place visual communication definitely gains greater impact. If you have any questions for us please get in touch or if you wish to start to think about your content ideas for your small business, why not join our marketing workshop on 24th September.