At RIMU Marketing, we enjoy working with a broad range of inspirational small businesses to help them establish a solid marketing platform from which to grow. We work across various sectors, including charities, sports, coaches, hospitality and wellbeing specialists.
With this in mind, we wanted to share a client case study with an amazing local charity, the National Society of Rheumatoid Arthritis (NRAS). NRAS does amazing work to champion, inform and support those living with or caring for someone with Rheumatoid Arthritis (RA) or Juvenile Idiopathic Arthritis (JIA) across the UK. We have worked with NRAS on a couple of projects over recent years, but this was a very special project that we wanted to share.
About NRAS:
Set up in 2001 by Ailsa Bosworth MBE, NRAS is the only patient-led organisation in the UK specialising in rheumatoid arthritis (RA) and juvenile idiopathic arthritis (JIA). NRAS works closely with all of its members, volunteers, and medical board of directors to design, coordinate and fund comprehensive support services for all affected by RA and JIA. The support ranges from:
A dedicated phone helpline (9 am – 5 pm Monday – Friday).
Conducts research and provides regular updates to those living with RA through a bi-annual magazine, monthly emails and social media.
Lobbying the government to ensure that the best medicine, care and treatment is available.
Offers an online programme to help you self-manage your condition called SMILE-RA.
Run local in-person support groups.
Fundraise to support projects and help those living with RA.
To discover more about the amazing work that NRAS do, please click here to visit their website.
The Project Brief and Challenge
The campaign objective was to drive awareness amongst UK healthcare professionals of the SMILE programme. The SMILE programme is a resource that will help individuals to self-manage their condition.
Campaign Summary
Due to an ever-increasing workload and demands on care, the NHS aimed to discharge 25% of its patients by March 2023. They aim to move these patients onto Patient Initiated Follow-Up pathways (PIFU). With resources already stretched to a maximum, some patients still need ongoing support, and this is where NRAS's SMILE programme can help. SMILE has already helped over 1,800 patients, with 88% of users finding it easy to use and 72% stating that SMILE-RA has increased their understanding of the importance of self-management; it is a valuable tool.
To provide the best care to those living with RA or JIA the team wanted to connect with and drive awareness of this programme to as many UK healthcare professionals working in key hospital rheumatology departments as possible.
SMILE is an online e-learning platform to help those living with or caring for someone with Rheumatoid Arthritis (RA) to self-manage their condition. It has been proven that those who self-manage their illness have a better long-term outcome. Six modules have been created, with two more planned to launch in 2023. Each module takes 20-30 minutes to complete, with videos to watch and content to work through. Current modules are:
Introduction/ Foundation
Newly diagnosed
Meet the team
Medicines
Managing Pain and flares
How to have the best consultation
The Campaign
Through discussions with the team, we agreed to create an awareness campaign to connect with the ideal client – "Time to SMILE". As part of this campaign:
The NRAS team focused on talking about the SMILE programme on their stand, at the British Rheumatoid Society conference on April 23. To create a memorable impression, we coordinated pens, stickers, hand sanitisers and an information leaflet to explain more about the programme.
NRAS invited the target audience to attend one of two online webinars showcasing the SMILE programme, showing them how easy it is to use and refer their patients.
A DM piece was also sent to all key contacts in the Rheumatology departments across the UK, including an information poster to feature on their team notice boards.
The information webinar then ran on 25 May 2023; this was run twice and recorded to accommodate shift patterns.
We worked with two of our fantastic RIMU Marketing associates on this project – JWJ Design to help with the creative and Q Print to support the print and distribution. Our role within the project was to: support the marketing team by defining the project requirements, helping them to finalise the POS items required ensuring they arrived on time and within budget, drafting copy and managing the campaign through to delivery.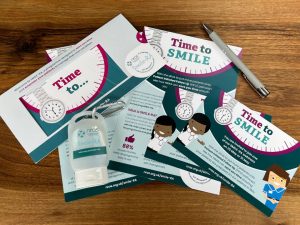 The Results
The SMILE programme was well received at the BSR conference in April. The campaign overall achieved some fantastic results by successfully connecting with key healthcare professionals within the rheumatology departments across the UK throughout the campaign.
Nearly 200 healthcare professionals signed up for the webinars, and there was an increase in SMILE registrations, with over 500 new sign-ups being achieved during the campaign.
The website traffic also saw an increase of 100% and a 139% increase in visits during the campaign 3 months compared to the previous 3 months.
What Happens Next?
NRAS plan to use the same format for a campaign next year, focusing on a different service they offer, depending on the 2024 budget.
Overall, the campaign was a great start to driving rheumatology team awareness about this brilliant and important SMILE programme. It forms the foundation to build awareness to support living with or caring for someone living with RA.
Client Testimonial
"We were very happy with the campaign from beginning to end. We felt very supported by Sophie and also the printing and design team. The assets that were created were eye-catching, and we were particularly pleased with the slatted mailer that was created. SMILE was well received at the British Society for Rheumatology conference, and the hand sanitisers and pens we had created for the campaign were very popular. Although one issue did arise, which was out of everyone's hands, the team jumped on the case and resolved it quickly and efficiently, which we were very grateful for."
Stuart Munday – Director of Fundraising & Marketing, NRAS
If you would like to see how RIMU and our associate team can help take your next marketing project to market, please get in touch.