I sometimes meet a new small business owner and it may not be immediately clear how a freelance marketing consultant could help them drive their business forward. To try to answer this question I wanted to share a fantastic client case study with Jacqui from Big Brown Dog Canine Massage Therapy:
About the business: Big Brown Dog Canine Massage Therapy is an alternative treatment. Aimed at helping dogs, often older dogs, with muscular discomfort. It can be known to help dogs with a variety of ailments including but not limited to arthritis, osteoarthritis and hip dysplasia.
Summary: I started working with Jacqui from Big Brown Dog Canine Massage Therapy in June 2016, the business then fully launched in September 2016.
Our Challenges: When we met in June, Jacqui was struggling to connect with her target audience to let them know about the great treatments she could offer dogs with muscular discomfort. Trying to balance working in a full time job with her life long passion of working with dogs, time was a big challenge. Our starting point was to launch the business which included building a website, setting up her harvest media (blogs, email marketing and social media channels) as well as setting a revenue target, both of which have been achieved within the time frame identified. The revenue target has been exceeded by 40% which is amazing!
How I helped: We worked together over the 3-months (June – September) in the following ways:
Marketing Strategy: I worked with Jacqui to write her marketing strategy, identifying her business objectives, target audience and content planning. This process is great for helping the business owner understand what they are doing, why they are doing it and more importantly what success looks like.
Website Build: I worked with Jacqui to build her website in association with a website designer Avidmode, by supporting in the project management, writing of copy and sourcing of images. An effective website is key to business success in today's digital market place.
Blog: Jacqui has also religiously written a blog on a business related topic once a month since her business launch, this is great as it not only does this support the website SEO but also conveys more information to the target audience about the business.
Email Marketing: Through email marketing Jacqui has continued to connect regularly with her client base, reminding them that she is there and how she can help them.
Social Media: Facebook was identified as the key network to engage with her target audience, we planned engaging content and Jacqui has posted frequently.
Content Planning: Coordinating the content plan together really helped Jacqui to see how the blog, email and social media activity should all work together in driving key business messages out to the target audience.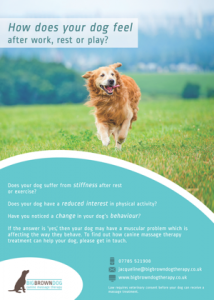 Creative Example of the Big Brown Dog Poster.
Results: The results for Jacqui and her business has been a testament to her hard work and proof of how successful marketing can be. The business has gone from strength to strength, since the brand launch in September 2016, experiencing a revenue uplift of 100% on the average monthly revenue generated – an AMAZING result. In addition Jacqui was also a finalist for the "New Business Start Up" in the Maidenhead Business Girls Award (March 2017), a local network group.
Congratulations on your achievements Jacqui!
What happens next: I am pleased to be working with Jacqui again on some new and exciting projects. Watch this space!
Client Quote: "Sophie's input has been invaluable to me as a start-up small business. Her marketing knowledge and sound business advice has helped me to build confidence in my brand and service offering and this been proven by the upturn in sales and lead generation. Thank you for your continued help, support and guidance."
Jacqui Newholm "Big Brown Dog Canine Massage Therapy"